Updated March, 2016 - 10:45pm
THERE IS A LOT OF INFORMATION ON THIS PAGE AND IT WILL BE UPDATING UNTIL THE START OF THE TOUR SO PLEASE MAKE BESURE TO CHECK BACK FREQUENTLY READ EVERYTHING VERY CAREFULLY AND THROUGHLLY.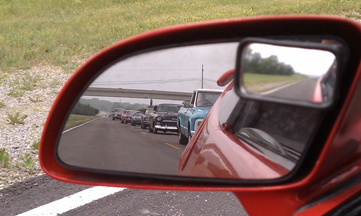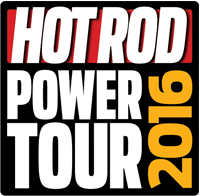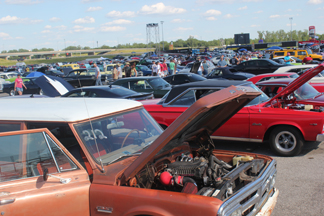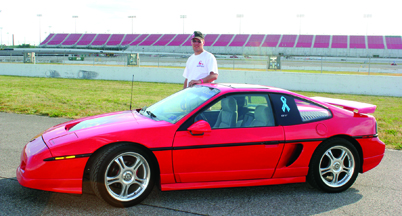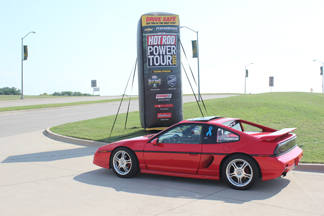 THE OFFICIAL DRIVING DIRECTIONS ROUTE
T
BD
Here is a brief description of the Hot Rod Power Tour if you don't know what it is:
The

Power Tour consists of seven cruise nights in seven cities across the USA in seven days, starting this year on Saturday June 11, 2016, in Gonzales, LA with a cruise night from 10:00am - 7:00pm. The Tour departs the morning of June 12, following a predetermined route to the next city where there is a cruise night between approximately 12:00pm - 7:00pm; repeating this schedule again for the next five days. Participants can stay at the cruise nights as long as they like and get there at their leisure. Some cruise nights have had up to 5,000 participants and many more spectators. There are vendor giveaways throughout the tour and sometimes special events are planned for participants (i.e. open drags, laps on race tracks, autocross, etc.).
The driving route between the venues is conducted through small towns on paved country roads with minor amounts of interstate driving; usually ranging from 200 to 300 miles each day. The route is announced about two weeks before the beginning of the tour. The rural routes sometimes result in traffic congestion for a mile or more while entering venues. It is an unforgettable sight driving with magnificent cars, with people on the street watching as the cars go by. Throughout the entire tour, anyone can join or leave at anytime, or do the entire trip and be a

"Long Hauler."

Registration fees depend on the number of stops in which you participate
(driving the route is free to the public).




The Power Tour doesn't only consist of '60/'70's muscle cars, custom rides, or street rods. Other participants of the tour respect the Fiero and see it as an icon of "Pontiac Excitement". There are new, exotic, and daily driven cars that participate too. Participating vehicles don't have to be in show condition; there is no judging at any of the venues. The Power Tour is more about the enjoyment of driving, community, and friendships.

Some Fiero's from Texas, Louisiana, and Kansas have already said they will be attending some of the stops this year. If you plan on attending, hotels need to be booked soon, as many hotels at each stop sell out very quickly. Visit www.hotrod.com for more information. If you have any questions, please feel free to contact me at STCampbell328@hotmail.com (please use subject: FIERO HOT ROD POWER TOUR) or call/text 630-816-5291. I have done the Power Tour for seven years and have much information to share; however my level of participation for this year's tour is uncertain.



Scott Campbell, NIFE Club Member & Seven Year Power Tour Participant
The 2016 dates and venues are as follows:


Saturday - June 11 – Lamar Dixon Expo Center in Gonzales, Louisiana


Sunday - June 12 – Royal Purple Raceway in Baytown, Texas


Monday - June 13 – Circuit of the Americas in Austin, Texas


Tuesday - June 14 – Traders Village in Grand Prairie, Texas


Wednesday - June 15 – Remington Park in Oklahoma City, Oklahoma


Thursday - June 16 – Kansas Pavilion in Wichita, Kansas


Friday - June 17 – Kansas Speedway in Kansas City, Kansas


Friday night – June 17 - Ceremony for "Long Haulers" - TBA
Only for people that have done the whole tour since Concord, NC)


Show gates/Registration open at 12:00; Single day vehicle entry: $30; "Longhualer" or 3+ day vehicle entry: $90
(Pre-register $80
familyevents.com
). Spectator Parking available: Free/Unknown




Any questions about these events or the HOT ROD POWER TOUR in general call/text 24/7 Scott Campbell (5 time Power
Tour Veteran and NIFE member) @ 630-816-5291 or STCampbell328@hotmail.com
(Subject: FIERO HOT ROD POWER TOUR)


More info can be found at www.hotrod.com under the events page or www.familyevents.com/event/229 or FAQ
You can also get the most up to date information on Pennocks Fiero Forum: http://www.fiero.nl/forum/Forum1/HTML/094983.html

Copyright 2016 NIFE Fierofocus.com All Rights Reserved.
Privacy Notice: The Northern Illinois Fiero Enthusiasts will not sell or share your personal address or contact information with any outside vendors or other third parties.
Your personal information is used only for conducting club related business by the board members of this club.