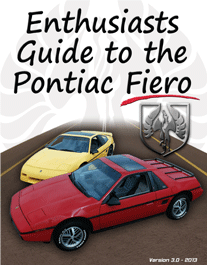 ORDER YOURS TODAY FOR
ONLY $15.00
(plus shipping)
NEW & UPDATED 2013 VERSION!!!

Version 3.0 of the EG is the most in-depth, comprehensive, documented
information on the stock 1984 to 1988 Fiero with over 50 pages in an
8.5" x 11" spiral bound book. Up to date Fiero facts, statistics, numbers
built, colors, VIN decoder, and specifications with over 150 full color
images. There is more information included in this guide than any
other publication on the market today!


New for Version 3.0!
1.

Includes over 20 new bullet point topics throughout the book


2.

Two new sections added covering the actual Indianapolis 500 Pace Cars and the last two 1988 Fieros produced –




over 20 new bullet point topics!


3.

Several new images added to the image gallery section
Top
Highlights
Up to date Fiero facts for every model year
Fiero statistics, number built, colors, VIN decoder
Specifications, engines, transmissions, body styles, wheels, etc.
Highlights of each model year
Over 10 pages of full-color graphics, including over 150 color images
Option code availibility chart by year
Complete list of over 235 RPO & Service Identification Codes